Why Is It Important To See The Dentist?
Regarding our health, we all know the importance of seeing the doctor regularly. But what about the dentist? Often, oral health takes a backseat to our overall well-being, but in reality, it's just as important. Regular visits to the dentist are crucial for maintaining oral health and preventing many problems down the road. As your dental professional, Dr. Turner at Dentistry on Monroe in Charlotte, NC, can help you detect dental problems early enough to prevent complications and avoid invasive treatments.
How Often Should You Go To The Dentist?
People should visit the dentist every six months unless their dentist recommends otherwise. Scheduling dentist visits at least twice yearly can help detect common oral problems early. Dentists can identify potential problems one may not be aware of, including cavities or indications of gum disease in its initial stages.
While dental visit frequency varies across patients, factors likely to influence how often you should go to the dentist include:
Risk factors as assessed by your dentist

The current state of your oral health

Your general health history and medical condition.
What Are The Benefits of Attending The Dentist Regularly?
Below are the benefits of regular dentist visits.
Prevents Cavities:

Preventing cavities is better and can be less costly than treating cavities. Your dentist will inspect your teeth for early signs of cavities and implement appropriate strategies to limit cavity growth.

Eliminates Plaque and Tartar Buildup:

Daily brushing and flossing aren't as effective as professional teeth cleaning regarding tartar and plaque buildup. Tartar can be hard to remove and requires you to visit Dr. Turner's office for professional cleaning.  

Prevents Bad Breath:

Professional teeth cleaning helps to prevent and treat bad breath since it eliminates harmful bacteria before they can cause tooth decay or gum disease. 

Teaches Good Oral Habits:

Your dentist can help you develop a personalized dental hygiene routine during regular dental visits. 

Early Detection:

Regular dental visits allow dentists to detect dental conditions before they worsen. This includes everything from cavities to oral cancer. The American Cancer Society advises that early detection of oral cancer improves the chances of survival.
Regular dental visits also provide peace of mind, as you know that your oral health is in good hands and you're doing everything possible to prevent problems from arising.
What Does a Typical Dentist Appointment Look Like?
Dr. Turner will thoroughly examine your teeth, checking for any signs of cavities, gum disease, or other oral health issues. He'll also check your bite, jaw, and oral tissues to assess growth and development. After the examination, a dental hygienist will likely clean your teeth, removing any plaque, tartar, and stains that have accumulated since your last dental visit. Sometimes, the dentist may conduct a minor tutorial on proper oral hygiene tactics. Based on your dental situation, you can expect that a typical dental exam will include the following:
Screening for gum disease

Examining for tooth decay

Examining existing restorations

Screening for oral cancers 

X-rays 
What Is a Dental Exam vs. Cleaning?
A dental exam – also known as a dental checkup – is a process where the dentist tests the health status of the teeth, gums, and jaws. The main focus of dental exams is to detect dental problems early enough to prevent them from getting worse, either with improved home care or conservative dental treatments. A dental exam can also help to detect abnormalities like oral cancer or autoimmune diseases of the mouth. 
A dental cleaning is a process by which a dentist removes any deposits (such as plaque and tartar) and particles that regular brushing or flossing can't effectively remove. Cleaning is more focused on maintaining oral hygiene and preventing future problems. Some cleanings, known as Scaling and Root Planing or "deep cleanings," are prescribed by the dentist to address more advanced gum disease states. 
The main difference between a dental exam and dental cleaning is the process and intention involved. Dental exams help dentists discover any dental problems and plan treatments accordingly. A dental cleaning aims to clean the teeth for proper tooth and gum health and hygiene. 
Schedule A Dentist's Visit at Dentistry on Monroe
Visiting a dentist can help maintain or improve oral health and hygiene. Regular dental checkups and cleanings are important for maintaining good oral health and preventing any dental issues like periodontal disease, cavities, and any other medical issues that could come up. Dr. Turner understands the importance of regular dental visits and strives to provide the best care possible. Whether you're due for a cleaning or a checkup, we're here to help. Don't hesitate to contact us to schedule an appointment with our team today.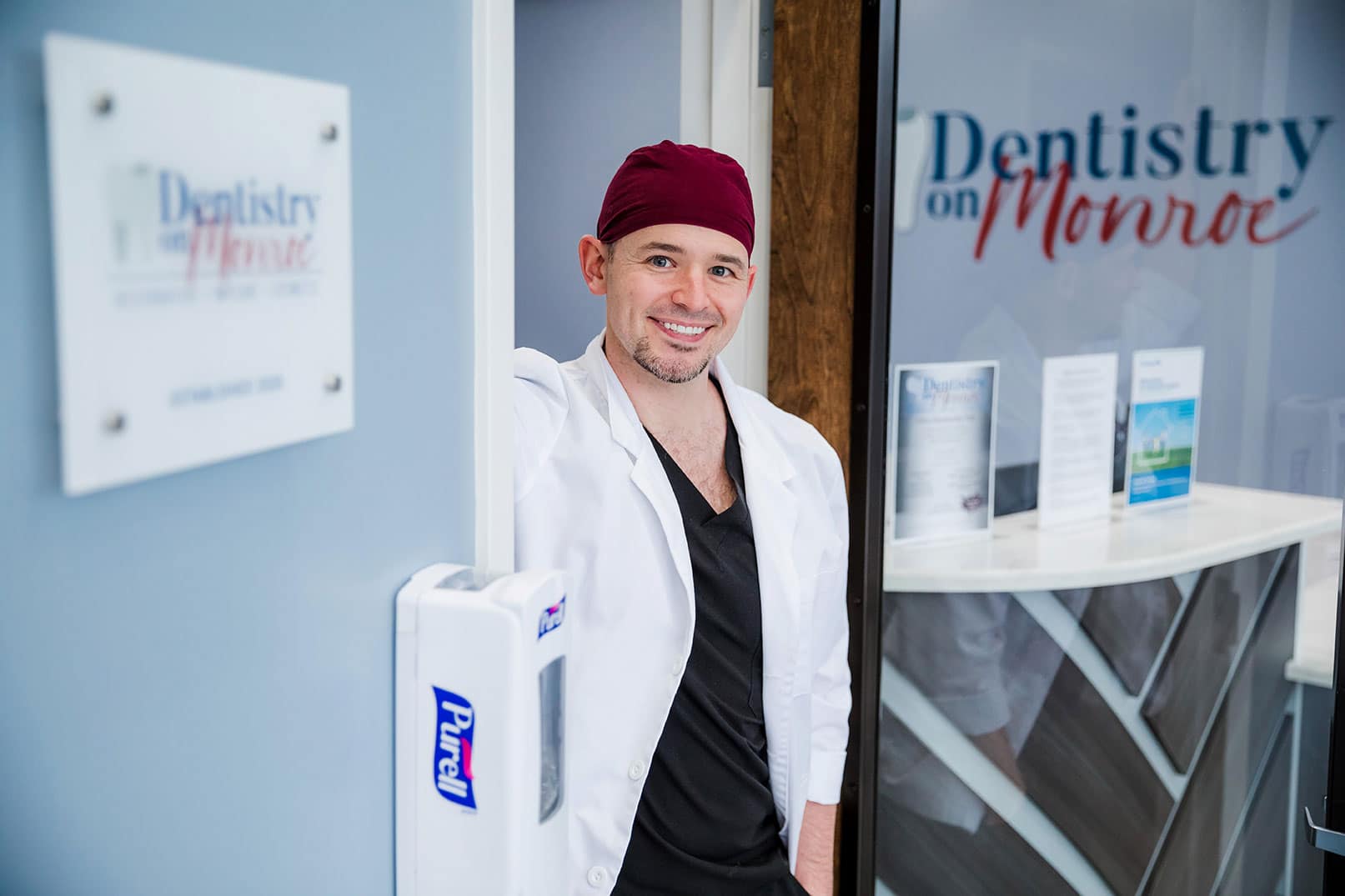 Eric Turner, DMD
Dr. Eric Turner, DMD, a Philadelphia native and Temple University Kornberg School of Dentistry graduate, employs a blend of advanced medical knowledge, fine motor skills, and compassionate patient care in his Charlotte-based dental practice. With a high-level expertise in dental implants, Invisalign, and restorative and cosmetic dentistry, he leverages his advanced training to improve the quality of his work and optimize patient comfort. Outside his practice, Dr. Turner, a passionate traveler, scuba diver, skier, guitarist, and culinary enthusiast, cherishes his new home and community in Charlotte, NC.