Clear Aligners In Charlotte NC
Click to Scroll for More
What Are Clear Aligners?
Braces are the traditional option, when it comes to straightening your own teeth. Clear aligners offer another option for people who want an alternative to traditional wire braces. Clear teeth aligners, like Invisalign treatment, differ from traditional braces in that they come with a set of aligner trays that are used to shift the position of teeth. Aligners work gradually to shift and hold teeth in their appropriate positions. 
When you schedule a consultation, your teeth are scanned, x-rayed, and an impression is made. Models are created based on these diagnostic tools. Models are printed and plastic trays are created to match the models. Treatment plans allow patients to wear a retainer over a 6-24-month period to effectively shift teeth without using metal braces.
What Conditions Can Clear Braces Treat?
Clear dental braces can be used to treat several tooth misalignments ranging from mild to severe. These include:
Crooked teeth

Overcrowding

Tooth rotations

Overbite, underbite, or crossbite (sometimes called "snaggle teeth"),

Teeth that appear too short or too long (intruded or extruded teeth)

Gaps in teeth 
The results of using clear orthodontic aligners to treat these conditions are amazing. Many patients receive full, beautiful smiles for the first time in years.
How Long Does It Take For Clear Orthodontic Aligners To Work?
The duration of treatment depends on the severity of your teeth's needs. Our staff typically recommends treatment for 8-12 months. Adults with previous orthodontic treatment may have shorter treatment plans.
The Brands and Benefits Of Clear Aligner Treatment
Dr. Eric Turner and his team work with several brands of the best clear aligners to make sure patients receive the best possible treatment for their needs. We have used Invisalign, Sure Smile, and Clear Correct aligners. Our office has even created our own aligners using state-of-the-art orthodontic planning software and a 3D printer.  
Why are clear aligners superior? Many people prefer them for their aesthetic appeal. Clear aligners may offer more confidence than traditional braces. They are also more comfortable and removable, making cleaning your teeth and eating easier and more convenient. 
Clear aligners should be worn at least 20-22 hours per day to be effective. Retainers should only be removed to eat and clean teeth and aligners. Failing to wear your aligners correctly may mean losing the benefits of clear aligners.  
Following treatment, your dental appearance and health may improve. Straight teeth are easier to brush, floss, and care for, as all surfaces are available to bristles. The cleaner your teeth are, the less likely you are to experience declining oral health and gum disease.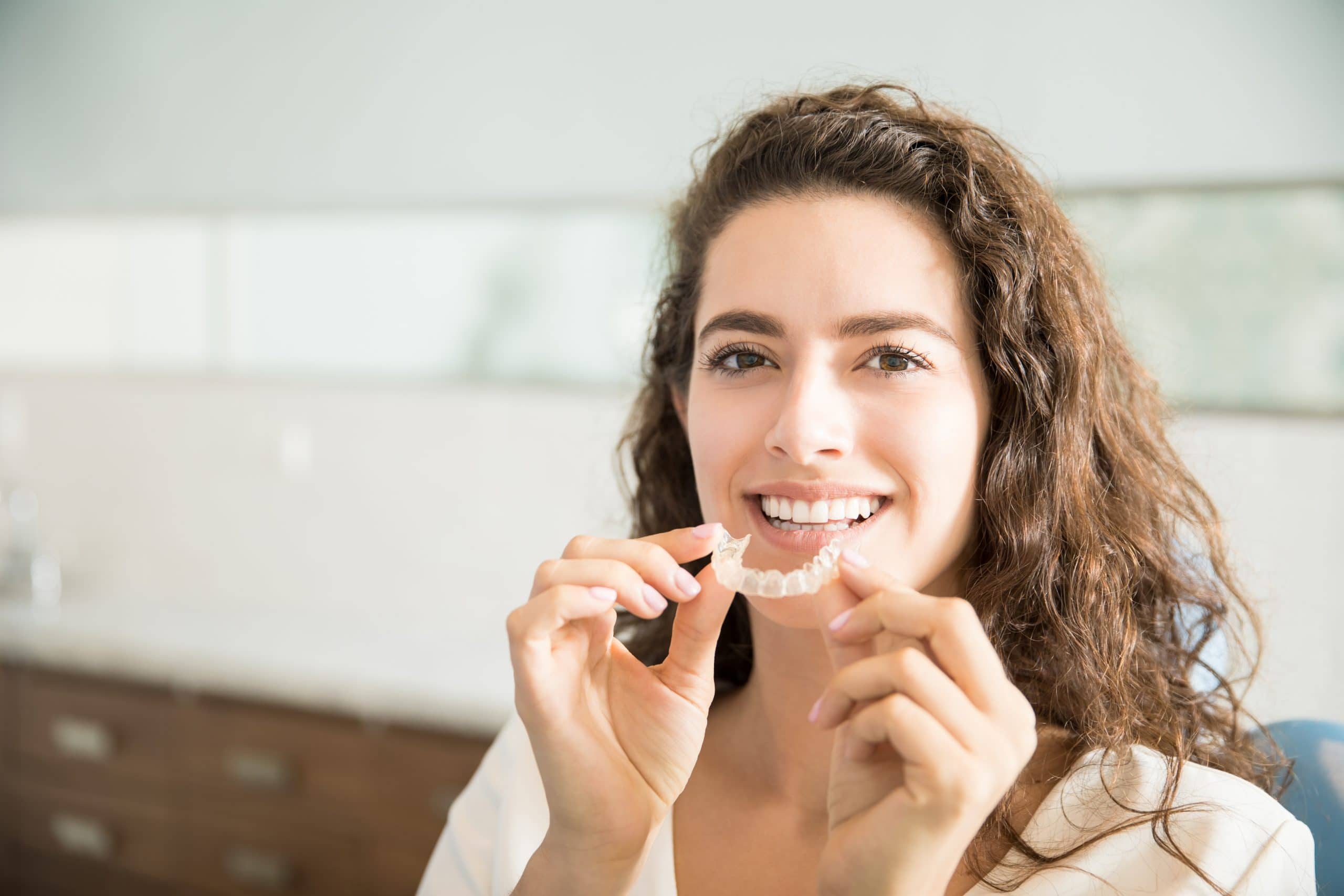 Contact Dentistry on Monroe Today
Invisible dental aligners can be an important component in the maintenance of healthy teeth and gums. Our dental office places a high priority on dental health. We pride ourselves on our devotion to patient education and minimally invasive orthodontic care. For more information on clear aligners in Oakhurst, Charlotte, NC, schedule an appointment today! 
We look forward to helping you find the best clear aligner treatment for your oral health needs!