When Should You See A Dentist?
Taking care of your teeth and gums is one of the most important steps to invest in your overall health. Good oral health is a key part of looking and feeling your best. Fortunately, keeping your mouth in great shape doesn't have to be complicated. The trusted team at our Charlotte dental office can show you how simple protecting the well-being of your smile can be. Here's what you need to know about preventing oral health problems from developing and what you should do if you experience a dental concern.
Why is oral health important?
It's no secret that good oral health plays a role in maintaining a beautiful smile, but attractive teeth aren't the only reason practicing good oral hygiene matters. Poor oral health can lead to health problems that can quickly go from minor and annoying to painful and serious. With this in mind, it's best to prevent oral health issues before they occur by brushing your teeth twice a day, flossing daily, and visiting the dentist regularly.
How often should you visit the dentist?
The American Dental Association (ADA) recommends that people visit the dentist every six months for routine dental exams and cleanings. Even if your teeth appear healthy, dentists are trained to identify oral health problems you may overlook. Regular dental checkups can help catch minor oral health problems before they progress, while professional cleanings can help protect your teeth from developing problems between checkups.
What are the signs you need to see a dentist?
Routine dental exams and cleanings are not the only reason to visit the dentist. If you notice something unusual or uncomfortable in your mouth, it's best to schedule an appointment with your dentist sooner than later to prevent the issue from becoming more complicated. Here are some reasons you may need to go to the dentist:
Dry mouth

Tooth pain

Cracked or chipped teeth

Sores in the mouth that won't go away

Excessive bleeding

Color changes on teeth

Sensitivity 
What is the difference between a dental exam and a cleaning?
While dental exams and cleanings often occur during the same appointment, they are two distinct procedures with different purposes. Dental exams are performed by the dentist to identify potential oral health concerns, such as cavities, gum disease, and oral cancer. It entails the dentist examining your teeth, gums, and the soft tissues of your mouth. Dental cleanings are performed by dental hygienists to remove plaque and tartar buildup that could cause cavities and gum disease. It entails the dental hygienist gently scraping the surface of your teeth and around your gum line with a special tool.
What general and restorative services are available at Dentistry on Monroe?
We're proud to offer many general and restorative services at Dentistry on Monroe to keep you smiling brightly for years. Some of these dental services include:
Schedule Your Next Dental Appointment at Dentistry on Monroe
Whether you're due for a routine dental exam and cleaning or have an oral health concern that you'd like to resolve before it gets worse, the friendly team at Dentistry on Monroe is eager to help you achieve the healthiest mouth possible. With our progressive techniques, quality materials, and compassionate care, you won't believe how comfortable and convenient caring for your mouth can be. Contact us today to schedule your next dental appointment with Dr. Turner. We look forward to seeing you smile!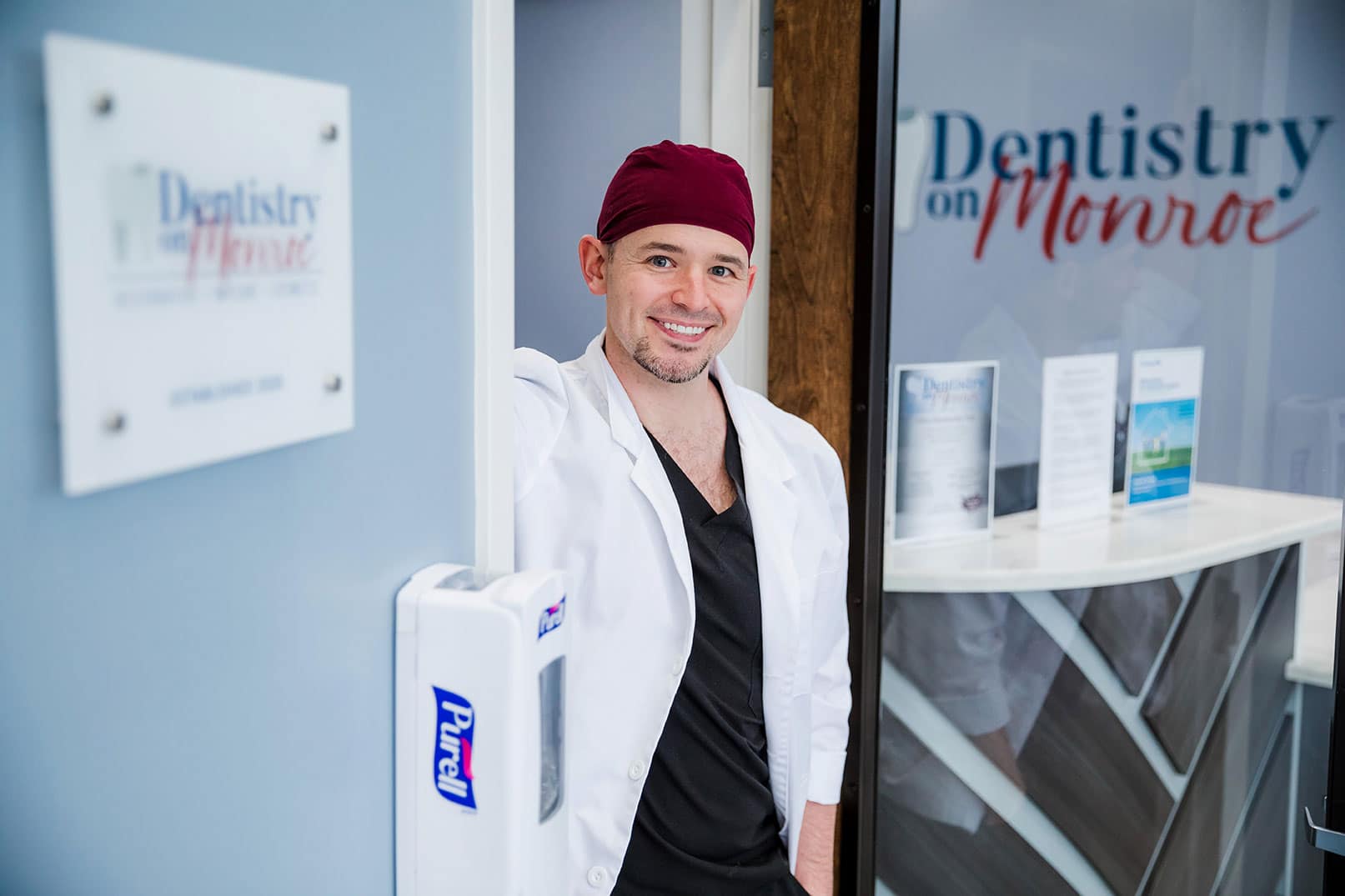 Eric Turner, DMD
Dr. Eric Turner, DMD, a Philadelphia native and Temple University Kornberg School of Dentistry graduate, employs a blend of advanced medical knowledge, fine motor skills, and compassionate patient care in his Charlotte-based dental practice. With a high-level expertise in dental implants, Invisalign, and restorative and cosmetic dentistry, he leverages his advanced training to improve the quality of his work and optimize patient comfort. Outside his practice, Dr. Turner, a passionate traveler, scuba diver, skier, guitarist, and culinary enthusiast, cherishes his new home and community in Charlotte, NC.