Teeth Whitening at Home vs. at the Dentist
Dentistry on Monroe – your trusted partner in achieving a brilliant, confident smile in Charlotte, North Carolina. We'll explore the two primary avenues for teeth whitening: at-home solutions and professional treatments at the dentist's office, helping you decide which one is right for you. Whether you're seeking cosmetic enhancements or restorative and general treatments, Dentistry on Monroe has you covered.
Understanding Teeth Discoloration
Before we delve into the different teeth whitening methods, let's briefly discuss why teeth become discolored in the first place. Tooth discoloration can be attributed to both external and internal factors. External factors, such as consuming staining beverages like coffee or red wine or smoking, can lead to surface stains, known as extrinsic stains. On the other hand, intrinsic stains result from factors within the tooth, like genetics or aging.
At-Home Teeth Whitening
At-home teeth whitening options are readily available and come in various forms, including over-the-counter products like whitening toothpaste, strips, and gels, as well as do-it-yourself remedies such as baking soda and activated charcoal.
Convenience:

At-home kits offer the flexibility to whiten teeth on your schedule.

Affordability:

They are generally more budget-friendly compared to professional treatments.
Effectiveness:

Results may vary, and some products may provide only subtle whitening.

Safety Considerations:

Without professional guidance, there's a risk of overusing or misusing at-home whitening products.
For the best results with at-home teeth whitening:
Follow the instructions carefully.

Be patient; it may take several weeks to achieve desired results.

If you experience sensitivity or discomfort, discontinue use and consult your dentist.
Professional Teeth Whitening at the Dentist
Dentists offer two primary methods for teeth whitening: in-office treatments and customized take-home kits. In-office treatments often involve advanced techniques like isolated tooth conditioning, while take-home kits are tailored to your needs and come with professional-grade whitening gels.
Fast and Long-Lasting Results:

Professional treatments deliver noticeable results quickly, and the effects tend to last longer.

Expert Supervision:

Dentists can ensure the procedure is safe and effective for your specific needs.
Costs:

Professional teeth whitening can be more expensive than at-home solutions.

Time Commitment:

In-office appointments may require multiple visits.
Professional treatments are generally safe, but you must consult your dentist before undergoing any teeth whitening procedure, especially if you have underlying oral health issues or concerns about sensitivity.
Factors to Consider When Choosing
The choice between at-home and professional teeth whitening depends on several factors:
Individual Needs and Goals:

Consider the extent of staining and your desired level of whiteness.

Budget Considerations:

Determine how much you're willing to invest in teeth whitening.

Timeframe for Desired Results:

Assess how quickly you want to achieve a brighter smile.

Sensitivity and Oral Health Concerns:

Consult your dentist if you have sensitive teeth or existing dental conditions.
Learn More About Teeth Whitening at Dentistry on Monroe
Ultimately, choosing between at-home and professional teeth whitening depends on your unique circumstances and preferences. Remember that while at-home options are accessible and budget-friendly, professional treatments offer quicker, more dramatic results under the supervision of a dental expert. Always consult your dentist to determine the best approach for achieving your desired smile. Contact Dentistry on Monroe to learn more about our teeth whitening options, or schedule an appointment today.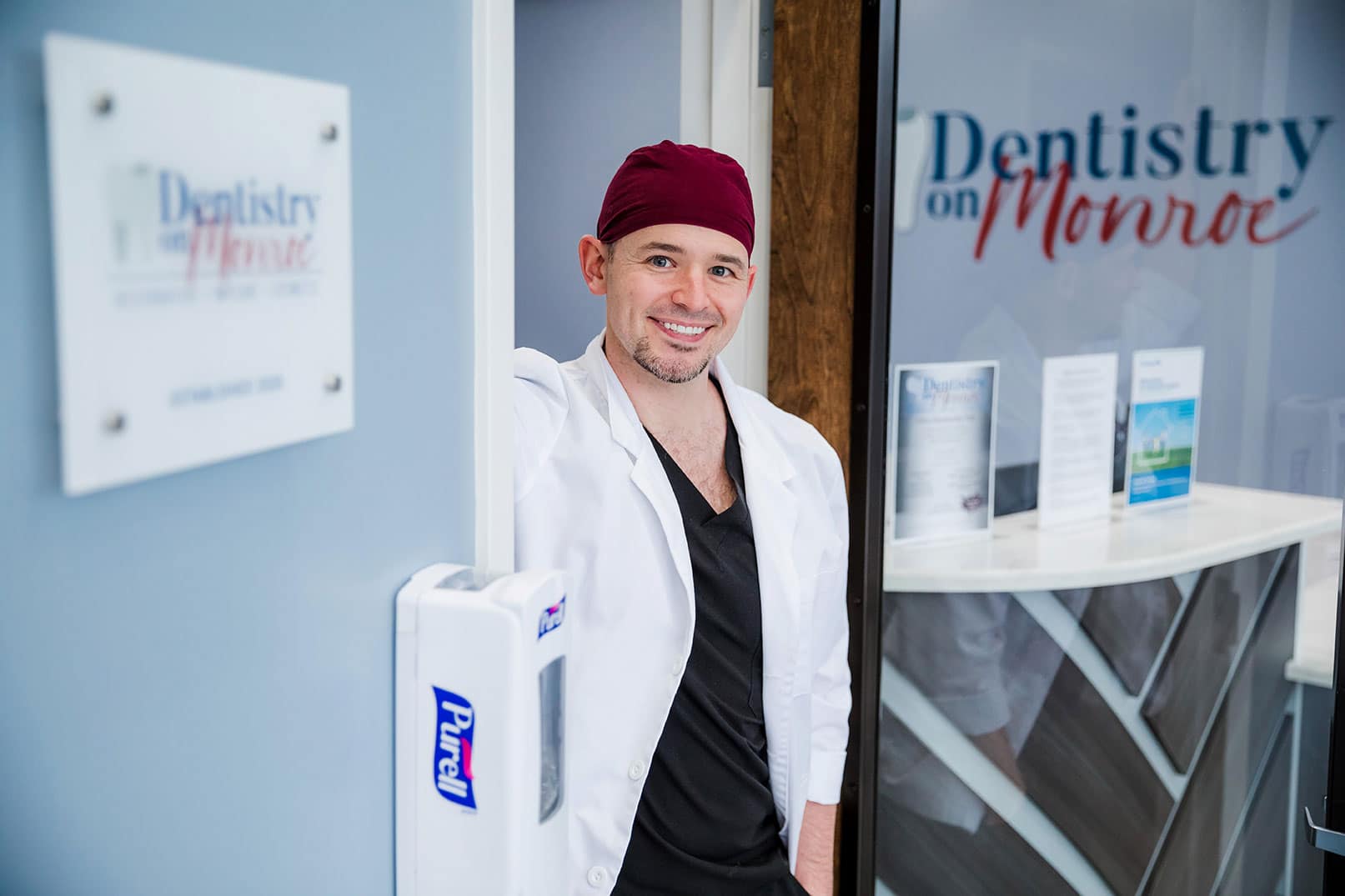 Eric Turner, DMD
Dr. Eric Turner, DMD, a Philadelphia native and Temple University Kornberg School of Dentistry graduate, employs a blend of advanced medical knowledge, fine motor skills, and compassionate patient care in his Charlotte-based dental practice. With a high-level expertise in dental implants, Invisalign, and restorative and cosmetic dentistry, he leverages his advanced training to improve the quality of his work and optimize patient comfort. Outside his practice, Dr. Turner, a passionate traveler, scuba diver, skier, guitarist, and culinary enthusiast, cherishes his new home and community in Charlotte, NC.