Benefits of Regular Dental Visits
If you've perfected your at-home oral hygiene routine, do you still need to visit the dentist regularly? Checkups and cleanings at the dentist's office aren't just for keeping your smile pretty. They play an essential role in your oral and overall health. If you haven't been to the dentist in a while, here's what to expect at your next appointment and the benefits of keeping your regular checkups and cleanings at Dentistry On Monroe in Charlotte, NC. 
What happens during a dental visit?
Here's what you can always expect at a routine dental appointment:
Dental exam

– During your exam, the dentist will ask if you have any immediate concerns with your smile and answer any questions. Your teeth and gums will be evaluated, and X-Rays will be taken to see what's happening between the teeth and beneath the gum line. The dentist will review your options and devise a treatment plan if any issues are found. 

Dental cleaning

– Most of your routine appointment will be dedicated to your dental cleaning. Over time, cavity-causing plaque builds up on your teeth. If it's not brushed and flossed off, it will either cause cavities OR it will harden into a cement-like substance called tartar. This hardened plaque cannot be removed with regular brushing and flossing. Professional cleanings remove this build-up to keep your teeth and gums as healthy as possible.
How often should I see a dentist?
We will always advise you on how often you need an exam or cleaning. Most people need to visit the dentist every six months for an exam and cleaning. Patients with gum disease need cleanings more often, usually every three months. Outside of your routine visits, you may need additional appointments for restorative or cosmetic treatments. If you're experiencing any pain or have other concerns about your smile, don't wait until your next routine appointment. Schedule an exam as soon as possible.
Benefits of Seeing a Dentist Regularly
Early Detection & Treatment
Gum disease and tooth decay can lead to significant problems in our oral health. Dental problems don't resolve themselves. When tooth decay is left untreated, what could have been fixed with a simple filling can suddenly require a root canal and crownor even extraction to avoid very painful dental infections. Untreated gum disease leads to bone loss resulting in loose teeth and eventual tooth loss. Periodontal disease is also linked to conditions such as heart disease.
During your regular visits, you will also receive an oral cancer screening. Oral cancer is treatable when detected in its early stages but becomes more dangerous and challenging to treat as it advances. Your dentist will create a plan of action to address any oral health issues before they worsen. Regular dental check-ups ensure that your mouth stays healthy, and if you need treatment, it will be minimal.
Cleaner, Brighter Smile
Getting dental cleanings regularly ultimately results in a cleaner, fresher smile. Regular cleanings help break up any stains from plaque and tartar and also help eliminate bad breath.
Lasting Relationship With The Dentist
Family dentistry creates a relationship between you and the dentist. They will have information on any prior oral conditions, operations, allergies, or sensitivities on file. Better yet, they have a chance to get to know you, giving them better insight on how to provide the best dental care possible for you and your family. 
Keep Good Oral Hygiene Practices
Visiting the dentist often is only part of an effective oral hygiene routine. When you come in for your visits, the dentist will also give you recommendations on how you can improve your dental hygiene, either with better habits or different products to try. 
For younger patients, visiting the dentist regularly is crucial in instilling dental hygiene habits that will last for a lifetime. When a child gets used to seeing the dentist at a young age, they'll have less anxiety around dental appointments as an adult.
Dental Checkups and Exams in Charlotte, NC
If you want to kickstart your journey to better dental health, you can trust Dentistry on Monroe to cater to your dentistry needs. Contact us today to schedule your next dental exam and cleaning in Charlotte, NC!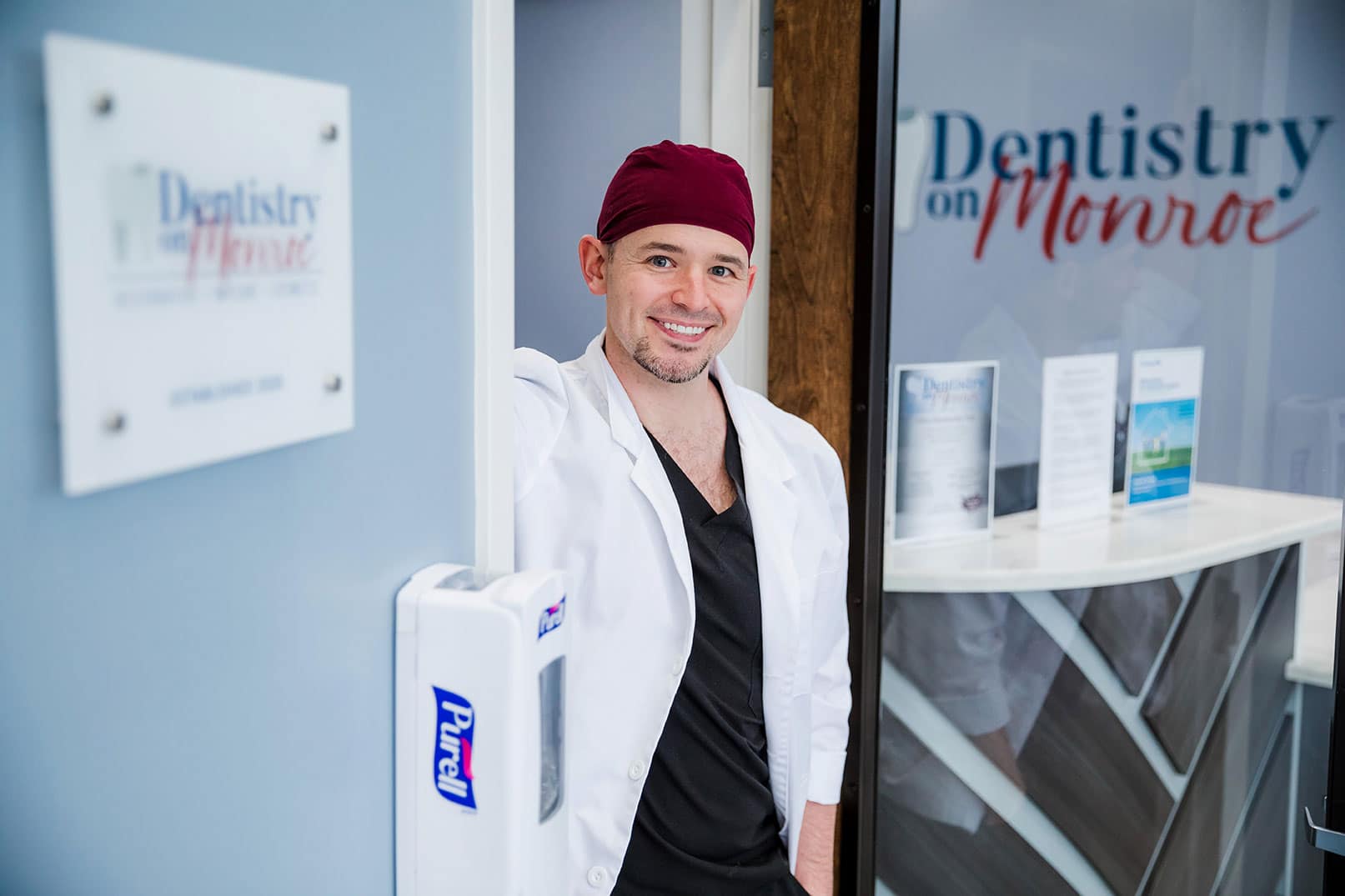 Eric Turner, DMD
Dr. Eric Turner, DMD, a Philadelphia native and Temple University Kornberg School of Dentistry graduate, employs a blend of advanced medical knowledge, fine motor skills, and compassionate patient care in his Charlotte-based dental practice. With a high-level expertise in dental implants, Invisalign, and restorative and cosmetic dentistry, he leverages his advanced training to improve the quality of his work and optimize patient comfort. Outside his practice, Dr. Turner, a passionate traveler, scuba diver, skier, guitarist, and culinary enthusiast, cherishes his new home and community in Charlotte, NC.